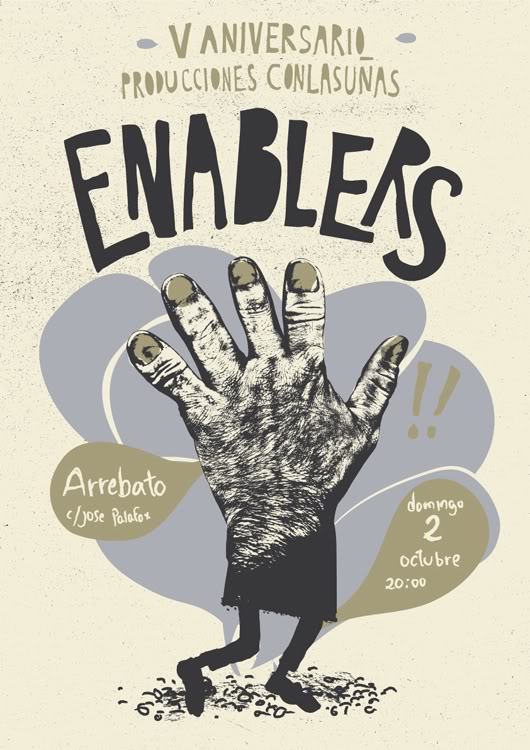 PRODUCCIONES CONLASUÑAS
FIESTA V ANIVERSARIO
Con sorteo de un (exageradamente megalítico) lote de cds, vinilos y carteles.
y (muy posiblemente memorable) sesión post-concierto por Dj Sarraceno.

DOMINGO 2 de OCTUBRE de 2011
a las 19.30h en ARREBATO
con
ENABLERS
http://enablers.bandcamp.com/

Desde los Estados Unidos de Norteamérica llegan estos 4 maestros. Joe Goldring (Swans, Porn, Toiling Midgets, Out in Worship, Touched by a Janitor), Kevin Thomson (Timco, Nice Strong Arm, T by a J), Doug Scharin (HiM, June of 44, Codeine, Rex) y el poeta Pete Simonelli son los 4 calvos más venerables de la escena post-rock underground mundial. Hay muy poco que decir sobre sus tres discos, la sublime maraña sonora, la presencia, la fuerza y el poso de autenticidad del proyecto que se traen entre manos estos cuatro monstruos, tres músicos poetas y un poeta músico. Si ya los has visto, estas líneas te sobran. Si no los has visto, comprobarás que estas líneas se quedan cortas. Enhorabuena a todo el mundo: Enablers vuelven con su furia adictiva y ensimismada. Por quinta vez en cinco años. La puta gloria. Ellos abrieron el calendario de conciertos de Conlasuñas en el siglo XXI. Con ellos celebramos el quinto aniversario. No te lo pierdas, que luego te arrepientes.

Muchas gracias por apoyar y disfrutar la música en directo.
Muchas gracias por entender cómo y por qué hacemos lo que hacemos.
Muchas gracias a la asamblea de Arrebato y a todas las personas que en algún momento se han visto envueltas en nuestros tinglados.

Estas son las 105 bandas para las que Conlasuñas ha trabajado
sin cobrar un puto duro durante estos últimos 5 años.
Que viva, pero que viva el DO IT YOURSELF:

ABOVE THE TREE (Italia), AGHOSTINO (Francia), AHLEUCHATISTAS (USA), ACTION BEAT (UK), ALMAX (Zaragoza), ANDY MOOR (UK/Holanda), ANTELOPE (USA), AU (Madrid), BEARDS (UK), BETUNIZER (Valencia), BILGE PUMP (UK), BIRDS ARE ALIVE (Francia), BLUE HOUSE (UK), C (R.Checa), CALVA (Francia), CHARLOTTEFIELD (UK), CHEER-ACCIDENT (USA), CHES SMITH (USA), CHRISTINE SEHNAOUI (Francia/Líbano), CLECKHUDDERSFAX (UK), COWTOWN (UK), DAMO SUZUKI (Alemania/Japón), DANISCO (Francia), DECAPANTE (Madrid), DECURS (Barcelona), DEVEROVA CHYBA (R.Checa), DON VITO (Alemania), EL BRINDADOR (Francia), ENABLERS (USA), ENON (USA), EPHEL DUATH (Italia), ERIZO (Gasteiz), EXPERIMENTOS IN DA NOTTE (Zaragoza), FAJARDO (Fuerteventura), FAMILIA MIRANDA (Chile/Barcelona), FAT32 (Francia), FAUSTINE SEILMAN (Francia), FIN FANG FOOM (USA), FLYING PIG MATANZA (Alicante), FORDAMAGE (Francia), GATECHIEN (Francia), GRABBA GRABBA TAPE (Madrid), HERRN (A Coruña), IT'S NOT NOT (Barcelona), JOE LALLY (USA/Italia), JULIE DOIRON (Canadá), KOGUMAZA (UK), KYOTO (Zaragoza), LADYCOP (USA), LAVODRAMA (Zaragoza), LOBSTER (Portugal), L'OCELLE MARE (Francia), MARGARITA (Madrid), METANO (Zaragoza), MINERVA (Zaragoza), MOHA! (Noruega/Alemania), MY NAME IS NOBODY (Francia), MYSELF (Francia), NEGRO (Valencia), NO NEBRASKA (Alemania/USA), NOISY PIG (Alemania), NUEVA VULCANO (Barcelona), OJOS CROMÁTICOS (Madrid/Barcelona), OVO (Italia/Alemania), OWEN (USA), OXES (USA), OX SCAPULA (UK), PARTYLINE (USA), PICORE (Zaragoza), PILLARS AND TONGUES (USA), PIT ER PAT (USA), PLEASE (UK), PNEU (Francia), POLTERGROOM (UK), PULLED APART BY HORSES (UK), ROBOT ORCHESTRA (Francia), ROSVITA (Madrid), SABOT (USA/R.Checa), SECRET CHIEFS 3 (USA), SHANE PERLOWIN (USA), SHERIFF (Zaragoza), SHIELD YOUR EYES (UK), SINCABEZA (Francia), SLOATH (UK), SVANTE SJÖBLOM (Suecia), SWEET WILLIAMS (UK), TAPETTO TRACI (Francia), THAT FUCKING TANK (UK), THE BITTER TEARS (USA), THE CITY ON FILM (USA), THE HEALTHY BOY (Francia), THE JOE K-PLAN (Madrid), THESE ARMS ARE SNAKES (USA), THE SOUND REBELLION (Suiza), THOMAS HOUSE (UK), TOSTADAS (Madrid), UNICORNIBOT (Pontevedra), VAGUE ANGELS (USA), VALINA (Austria), VIALKA (Francia), VISIÓN TÚNEL (Zaragoza), ZA (Barcelona), ZENER (Valencia), ZOMES (USA), ZU (Italia).

Conlasuñas. Arrebato - Zaragoza. 2006-2011.